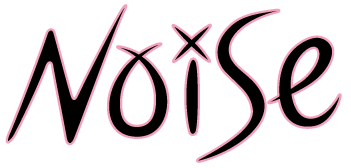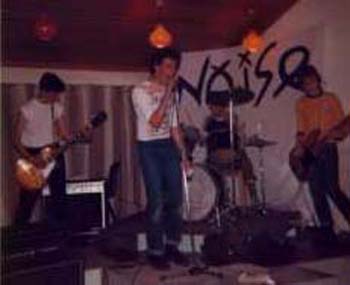 ---

In 1978 (summer of) Neil Darlington(bass), Andrew Chambers (drums), and Paul Greenwood (guitar) inspired by the punk/new wave music of the time decided that despite their total inability to play any instruments they would start a band. Originally called NOISE (named by their parents/neighbours), the name changed to NOISE+ when additional band members joined, Stephanie Smith (guitar), Bill Sykes (co-vocals) with Paul going onto lead vox. Bill had been co-vocalist in The RHYTHM, a NEW MILLS band whose members went on to form BLITZ.

NEIL-Bass

CHANEY (Drums), PAOLO and PAUL
The first gig was November '78 at DISLEY METHODIST CHURCH (where Chaney's dad was caretaker), supported only by pre-recorded tapes in front of a large audience including personnel that would later be part of such bands as BLITZ, ATTAK and The VIOLATORS. The gig was truly awful highlighting the bands total incompetence, although the spirit was undeniably there. Bill Sykes left to start his own project MINISTERS OF THE GROOVE although their paths were to cross many times over the next 8 years. Stephanie Smith left the band to concentrate on her job.
NOISE rehearsed twice a week recruiting Italian hairdresser Paolo Sportelli on guitar and several gigs were played at Disley Methodist the Community Centre. The band finally came to a halt in 1981 when Paolo left to join STOCKPORT pop band ANOTHER SHORT VISIT. Andrew Chambers joined New Mills based band VOID, with Chris Rodgers (Guitar) & Tony Smith (Bass). Neil Darlington quit the game but continued to give support to his mates' various projects

PAUL-Vocals, PAOLO-Guitar

PAUL and BILL SYKES-Joint Vocals
After NOISE Paul joined up with fellow nurse Anne Marie Oakes from New Mills. Borrowing Neil D's bass, the duo recruited Gail Heathcote from MARPLE on vocals and for six weeks there was a rather heavy dub sounding band called 'PRIMAL' rehearsing alongside the local punk bands. This fizzled out and things developed into:



---
Copyright ©2000 - 2023 Arachnid/Noise Promotions All Rights Reserved.